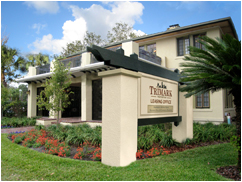 Trimark Properties values people for their unique perspectives, skills, experiences, and insights. We're looking for successful individuals to become part of the Trimark Properties team. Are you looking for a company where you'll be rewarded for your strengths and talents? Are you a hard worker who wants to work with other successful people towards a common goal? If so, Trimark Properties may be the perfect fit for you. For further information on our available job openings, see the information below or check out our Gainesville job listings on Indeed.com. Applicants are encouraged to apply via the Apply Now link on this website when possible. Why choose Trimark? Because we offer more than just great benefits! At Trimark, you'll have the distinction of working for a leader in the real estate industry. We offer you the opportunity to work for a company known for its character, quality, and customer service. You'll also have the opportunity to be a part of Trimark as we grow and break new ground on infill developments and shape the future of Gainesville. Come experience the pride of working for an award-winning company. Since its founding in 1992, Trimark has won over 40 City Beautification awards for their projects ranging from luxury apartment complexes to Class A office buildings. At Trimark, you'll have the satisfaction of knowing you've made a difference in people's lives. You'll feel a sense of accomplishment everyday as you grow with us towards your personal and professional goals. If Trimark sounds like a place you would like to be a part of, please complete the pre-app or e-mail us a copy of your resume and cover letter to hr@trimarkproperties.com. Please indicate which professional team you are most interested in joining:
Facilities and Technical Maintenance Team
Renovation Team

Lead Carpenter Specialist (Renovations & Repair) - Not Currently Hiring

Sales and Leasing Consultant Team
Marketing Team

Part-Time: Social Media & Marketing Intern -

Now Hiring

Part-Time: Social Media Coordinator & Content Creator - Not Currently Hiring
Full-Time: Digital Marketing Coordinator - Not Currently Hiring
Graphic Designer - Not Currently Hiring

Real Estate Development Team

Project Manager- Not Currently Hiring

Web Development Team
---
Our success is built on a foundation of shared values; we believe in quality service and relationships, mutual trust, integrity, hard work, and team building. If you share these values, we invite you to take the next step and contact us about open career opportunities by e-mailing cover letter and resume to hr@trimarkproperties.com.