Skip to main content
Union Street Historic Apartments
Studios & 1 Bedrooms
Leasing Starts Soon for Fall 2023
1202 SW 1st Ave
Gainesville, FL 32601
(352) 376-6223
Want a unique, historic apartment within walking distance of UF classes-- but want one that is well maintained, so you won't have maintenance hassles? You can't beat the Studios and 1BRs at Union Street Apartments. Located just 1 block from the UF business school, these renovated historic apartments are located in two historic buildings with a central courtyard; each apartment is completely unique. Choose from carpet or polished hardwood floors, 1st or 2nd floor locations, and enjoy GIGABIT Hi-Speed Ethernet (that's 65x faster than the Cox Cable essential package). Enjoy big windows to allow abundant natural light into your new home. Located just 1 block from the UF business school and walking distance to the UF College of Fine Arts, Library West, and Midtown. You can walk everywhere you need to go. You'll definitely want to see these apartments if you're looking for something that isn't cookie cutter. Very limited availability for Fall!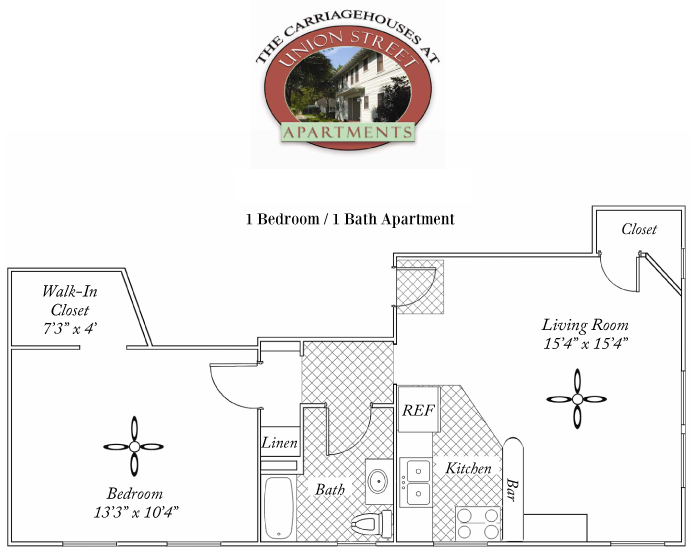 Leasing Starts Soon for Fall 2023
Amenities
Studios and 1BRs next to UF
Each apartment is unique
Some apartments include polished hardwood floors
Walk-in closet in some units
Interior staircases
Unique historic details
Hi-Speed Ethernet ports in each apt
Tall Ceilings
Oversized windows for a bright apartment & attractive views
Pre-installed ceiling fans
Every apartment at Union Street is unique; photos show several units; talk to an agent to see apartments that are available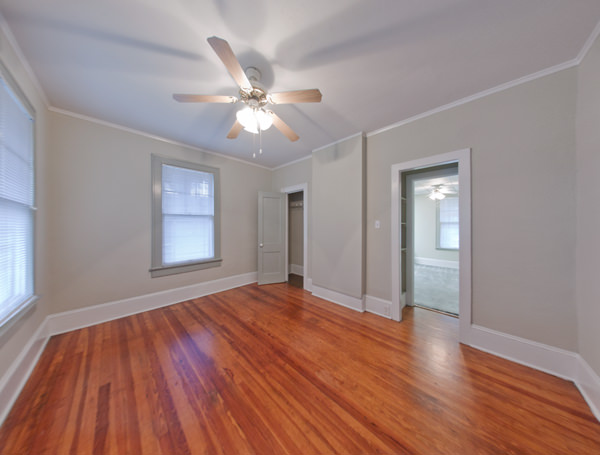 Features
Choose from 1st floor and 2nd floor apartments
Very close to UF (2 minute walk to classes)
Private courtyard
Complete laundry facilities on site
Nestled in a canopy of oak trees
Attractive lush landscaping
5-star maintenance team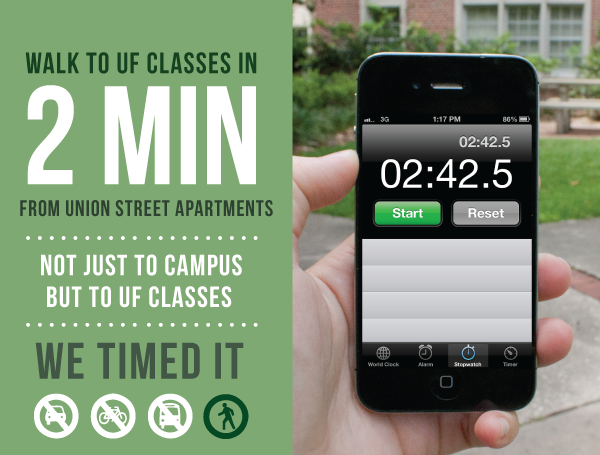 Rent Includes
Gigabit Hi-Speed Ethernet ($105/mo value)
Monthly pest control
Lawn care
24hr emergency maintenance
Night Manager Service
65X FASTER THAN COX CABLE'S ESSENTIAL INTERNET SPEEDS!
Union Street Historic Apartments
were rated 4.8 out of 5 based on 4 customer reviews:
"I liked how my apartment was so close to campus. This made going to my classes very convenient and time saving. "
"Great location, 5 minute bike ride to the New Engineering Building. Great maintenance team, great customer service. Very clean."
"The apartment was spacious and is always up to date on repairs. "
---
Union Street Studios & 1 Bedrooms
These historic studio and 1 bedroom apartments are full of charm. Located 1 block from the UF business school and walking distance to midtown, downtown, and Library West, you can walk everywhere you need to go! Bedrooms feature carpet or polished hardwood floors, and select units have walk-in closets. Skip the roommate! You can afford to live alone and enjoy a GREAT apartment next to UF. Hi-speed Ethernet is included in rent!
Floorplans, features, and rental rates vary from unit to unit; see a leasing agent for specs on the exact apartment available. Measurements are approximations only. Not responsible for errors or omissions. Sorry, no pets.
Take the next step
Get On Waitlist
Request more Info
Or call us at (352) 376-6223 for more information.
Think this could work for you?
Rooms are disappearing fast for Fall move-in. Don't miss out on living in the closest apartments to your classes.
Can't wait? Call us at (352) 376-6223 .