Skip to main content
Greystone Luxury Apartments
1BR/1BA Historic Greystone
Now Leasing for Fall 2023
909 SW 6th Ave
Gainesville, FL 32601
(352) 376-6223
These beautiful 1 bedroom apartments in Gainesville merge historic charm with luxury elegance - all within walking distance of UF classes. These 1 bedroom units are fully equipped with a gourmet kitchen, washer & dryer, and a luxury bathroom with pedestal sinks. Hardwood floors, custom woodworking and tiling add sophistication to the historic character of these apartments near UF sorority row. Greystone offers spacious accommodations perfect for students who need easy access to UF classes or Sorority Row. Avoid the bus and walk from your very own Gainesville apartment, located only 1.5 blocks from campus. Hi-Speed Ethernet is included in the rent, too!
Now Leasing for Fall 2023
Amenities
Amazing, newly renovated historic 1BR
2 minute walk to University of Flordia classes
Polished hardwood floors
Deluxe bathroom with pedestal sinks
Pre-installed ceiling fans
Custom wood cabinetry
Tile in kitchen and bath
Granite countertops
1.5 blocks from Norman Hall
Gourmet kitchen with granite countertops
Pre-installed ceiling fans
Designer lighting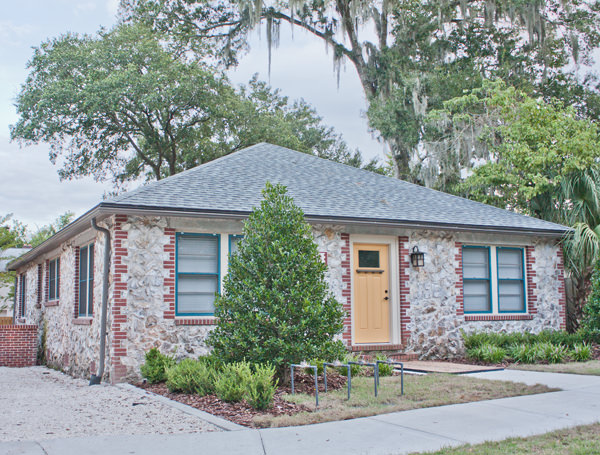 Features
Very close to University of Florida (walk to classes & Sorority Row!)
24hr emergency maintenance
Night manager
Attractive lush landscaping
Washer/Dryer and Dishwasher included
Located in the popular Greystone community
Assigned on-site covered parking available (limited!)
Attractive lush landscaping
Steps from University of Florida Classes & Libraries
Sleep in late & still get to class on time
Less than 5 minute walk to Univerisy of Florida's Sorority Row
Newly built apartments with luxury features
Night Manager Service included in rent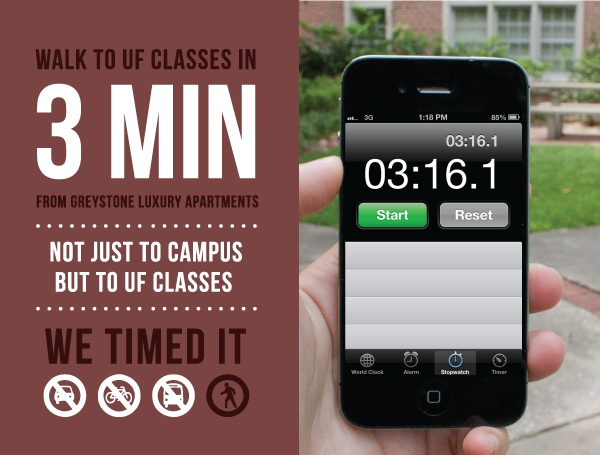 Rent Includes
Gigabit Hi-speed ethernet ($125/mo value)
Washer and Dryer in unit ($50/mo value)
Hi-Speed Ethernet
Washer/Dryer included in rent ($50/month value)
24hr emergency maintenance/Refuse
Monthly pest control
65X FASTER THAN COX CABLE'S ESSENTIAL INTERNET SPEEDS!
Greystone Luxury Apartments
were rated 4.7 out of 5 based on 14 customer reviews:
"Great location, very large living room, great appliances and decor. Always there to help with maintenance or any problems, very clean apartment and easy to keep it clean."
"The maintenance team is great! They are always really quick and helpful. I like the location and the overall apartment is very nice and clean! I enjoy living here!"
---
Greystone 1BR/1BA Historic Greystone
This 1 bedroom historic apartment in Gainesville at Greystone have both charm and elegance with a fully equipped gourmet kitchen with granite countertops, luxury bathroom with pedestal sink, and hardwood floors. You'll love how completely unique this apartment is! You can skip the bus, this apartment is in close proximity to everything; UF campus, midtown, downtown, and more. Come find out why this historic 1 bedroom apartments in Gainesville are a great place to call home!
Photos and floorplan shown are from one of several apartments available in two neighboring buildings (one is one-story and the other is two-story). Slight variations exist between units. Measurements are approximations only and may vary between units. Not responsible for errors or omissions. Sorry, no pets.
Take the next step
Schedule a tour
Request more Info
Or call us at (352) 376-6223 for more information.
Think this could work for you?
Rooms are disappearing fast for Fall move-in. Don't miss out on living in the closest apartments to your classes.
Can't wait? Call us at (352) 376-6223 .