Skip to main content
Deco '39 Luxury Apartments
2BR
Now Leasing for Fall 2023
320 SW 10th Street
Gainesville, FL 32601
(352) 376-6223
This modern, luxury 2BR apartment next to UF features over 800 sqft of spacious living areas, including luxury bathroom with a full-size tub, and a gourmet kitchen with granite countertops. It's located in an unbeatable location, only a 3-minute walk from UF classes. This apartment also has features such as a unique art deco design, black and white tile flooring and cabinetry. Hi-speed ethernet, washer/dryer & dishwasher are all included. One of our most popular 2 bedroom apartments!
Now Leasing for Fall 2023
Amenities
Over 800 sq. ft. of living space
Washer/dryer and dishwasher included
Tiled breakfast nook
Gourmet kitchen with full appliance package
Granite countertops
Spacious closets
Luxury bathroom with full size tub
Custom black & white cabinetry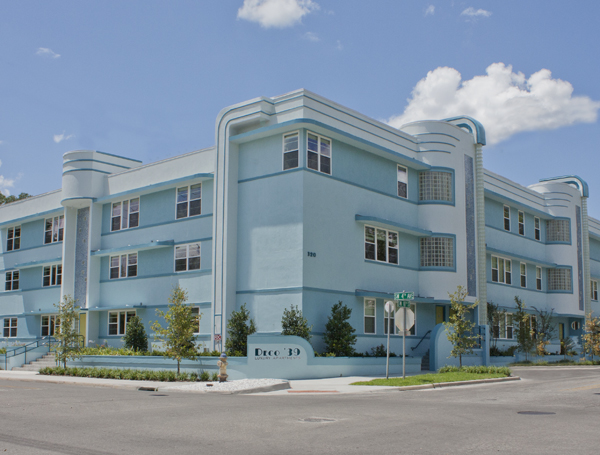 Features
Located less than 2 blocks from the University of Florida
Eligible for Zone 1 City Parking Decal
Art Deco design with LED lights
Courtyard with tables for studying or relaxing
Modern bike racks (check them out; they're cool)
5-star maintenance staff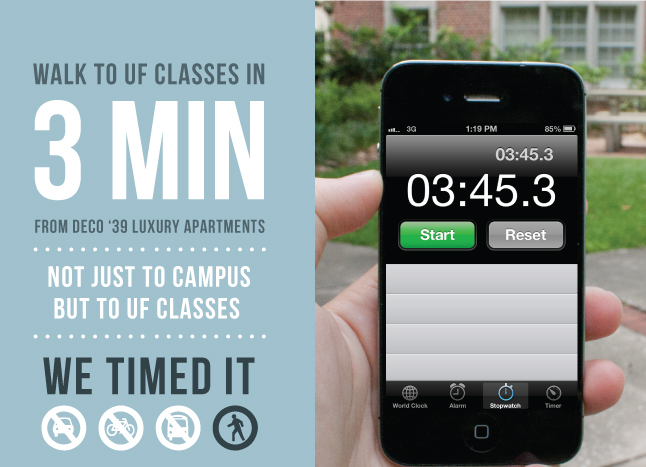 Rent Includes
Free hi-speed ethernet ($105/mo value)
Garbage ($10/mo value)
Washer/Dryer included in rent ($50/month value)
Monthly pest control
24/7 emergency maintenance & night manager service
65X FASTER THAN COX CABLE'S ESSENTIAL INTERNET SPEEDS!
Deco '39 Luxury Apartments
were rated 4.9 out of 5 based on 18 customer reviews:
"I love Deco '39! It's so close to campus and the look of it is like no other. This will be my second year at Deco and I wouldn't change anything. The staff is so nice and the maintenance team is wonderful. Definitely secure your spot ASAP because everyone loves this apartment!"
"Living at Deco is not your typical college experience. Its unique design is something you can't find anywhere else in Gainesville. The location is perfect and in walking distance to UF and popular nightlife spots. Trimark's staff has always gone above and beyond to make my experience wonderful!"
"My experience with Trimark has been very positive. The apartment is high quality and comfortable. The grounds are kept clean and maintenance responds quickly to work orders. The Trimark office is pleasant and easy to work with as well! It's close to campus and a great place for students."
---
Deco '39 2BR
Want unbeatable amenities with a modern, art deco design? Bring Miami to Gainesville in this 2BR/1BA is located in an unbeatable location, just 2 blocks from UF classes and close to midtown. This apartment includes washer/dryer, a full appliance package and a gourmet kitchen with granite countertops! Don't have a big budget? Consider sharing a bathroom and saving on rent! This 2BR/1BA is ideal for you!
Measurements and features may vary from unit to unit, so ask a leasing agent about the specs for the exact apartment that is available. Photos and virtual tours shown are from one of several floorplans available for this apartment size at this community. Measurements are approximations only. Not responsible for errors or omissions. Sorry, no pets. Upgrade fees may apply to upgraded or upper-floor units.
Take the next step
Schedule a tour
Request more Info
Or call us at (352) 376-6223 for more information.
Think this could work for you?
Rooms are disappearing fast for Fall move-in. Don't miss out on living in the closest apartments to your classes.
Can't wait? Call us at (352) 376-6223 .