Please review the
Help with Rent Flyer
based on info provided by the National Multifamily Housing Council. It summarizes relief options currently available for renters.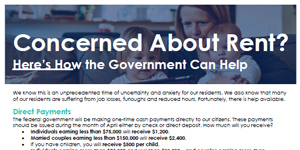 In addition to state and federal relief options, several groups associated with the University of Florida are also offering assistance to University of Florida students impacted by COVID-19. In March 2020, UF launched the Aide-a-Gator program (link:
https://www.sfa.ufl.edu/aidagator/
) which offers grants to UF students in order to assist them with paying education-related expenses. On May 5, 2020 two new financial relief programs were announced for University of Florida students. UF Student Government announced that they passed a
$500,000 rent relief
bill to help qualified students pay for rent during this time (info
here.
) In addition, the University of Florida
announced
a $15.5 million reflief package that will go to UF students for federal emergency aid. More than
$15,523,000 will be dispersed to UF students as grants
for aid needed due to the COVID-19 pandemic. The City of Gainesville is also offering support for qualified Gainesville residents earning extremely-low, very-low and low-to-moderate incomes who experienced disruption and loss due to COVID-19 with temporary rent and utility payments for up to two months, not to exceed $1250 per household and funded with a
$1,593,000
grant. For more info, see here:
https://www.cityofgainesville.org/GNVCares.aspx
Your contract remains in full effect, and rent remains due on the 1st of each month. Trimark is closely monitoring numerous proposed federal relief options. At this point, the details remain vague or are still awaiting further vote on a federal level. We realize that everybody, including us at Trimark, wants answers quickly, but unfortunately we must wait for the federal aid packages to pass before we can make any adjustments. Once legislation is passed (whether it's relief to landlords/property owners or relief to renters affected by the shut downs or no relief at all), we will determine how, if at all, our existing contracts can be modified. At this point, there are no modifications that can be made. We hope that changes at some point, but it will require some legislative action. We sincerely empathize with residents experiencing financial hardship and understand that these are very difficult times for everybody. We too are seeking to meet our legal and financial obligations, employ our staff, and serve our residents.
We're here to work with you
We understand there may be a delay in your ability to access unemployment or stimulus benefits. We are offering a limited number of Temporary Rent Restructuring options based upon varying levels of financial hardship. Please note that these options are limited due to the need for us to generate funds sufficient for us to operate our business.
If you have funds to pay
First and foremost, we ask if you have the funds available or access to funds, that you pay the contracted rent according to the rental agreement. Trimark is facing financial challenges similar to other small businesses. We are deeply committed to the community, our residents who must remain in Gainesville, our contractors, and our vendors. In order to meet our obligations to paying our employees, mortgages, taxes, insurance, and utility bills, we must collect rent from our residents. We are relying on those renters and guarantors that are facing less dire financial consequences to help those renters in true hardship cases by paying as contracted. If you can pay as contracted, we appreciate you, and those that cannot pay on time will appreciate you too.
If you have a true financial hardship and require an extension in order to make the full payment for rent for this month, please contact us here so we can make the appropriate arrangements to help:
Late Fee Waiver Request Form
If you are truly indigent, with no access to monies to pay the full rent in the time period when due, we will do our best to attempt to help you with a payment plan. In order to be considered for Temporary Restructuring of Rent, you must be truly indigent. We will require an "Affidavit of Indigence" from all parties on a lease as well as all cosignors, and we will analyze the Affidavits that we receive to determine which units are truly facing the most extreme financial hardship. An Affidavit must be filled out (including financial information and documentation relating to your indigent status). Please note that indigent status requests require that all parties to the lease (including guarantors) qualify as indigent. If you are approved for a Temporary Rent Restructuring, please be aware that it will not reduce the remaining amount of rent due on your contract. Instead, it will spread the amount due for the remaining months of the contract over a longer period of time, thereby reducing each of the monthly payments that you must make. Please follow this link to let us know if you feel you are Indigent and meet this status requirement. We will then provide you the Affidavit of Indigence. Once all residents and guarantors for the lease group return the form, we will consider your request for rent restructuring.
Request Form for Affidavit of Indigency