This 609 House is fully leased for Fall 2016.
Get Waitlist Updates
Check out these similar available floorplans.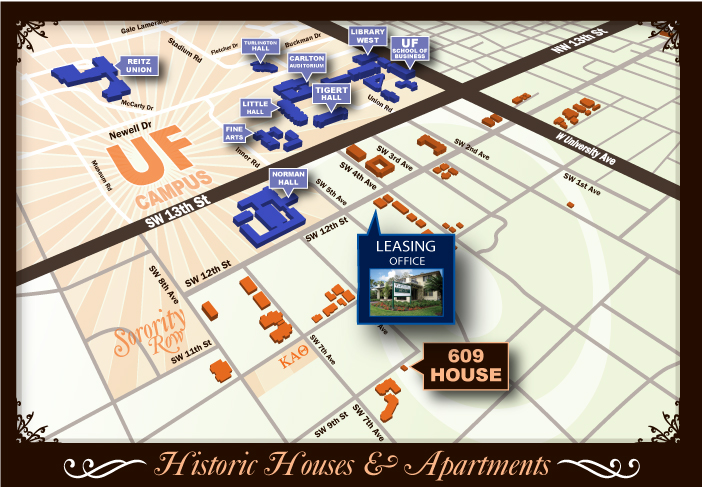 Houses Near UF For Rent
609 House
Fully Leased for Fall 2016
609 SW 9th Street
Gainesville, FL 32601
(352) 376-6223
Under renovation for Fall 2016! A beautiful historic home that's walking distance to UF's campus AND Sorority Row is hard to come by! The 609 House is a spacious two-story brick home that features hardwood floors and a decorative fireplace in the large living room. Newly renovated with features such as plush carpet in the downstairs bedroom and living room, luxury tile surround in the bathrooms, and a new gourmet kitchen with granite countertops and custom wood cabinetry. This house even offers a covered carport for parking!
Warning: Invalid argument supplied for foreach() in D:\WebRoot\VariousRoot\trimarkproperties\trimark-templates\floorplan-template.php on line 546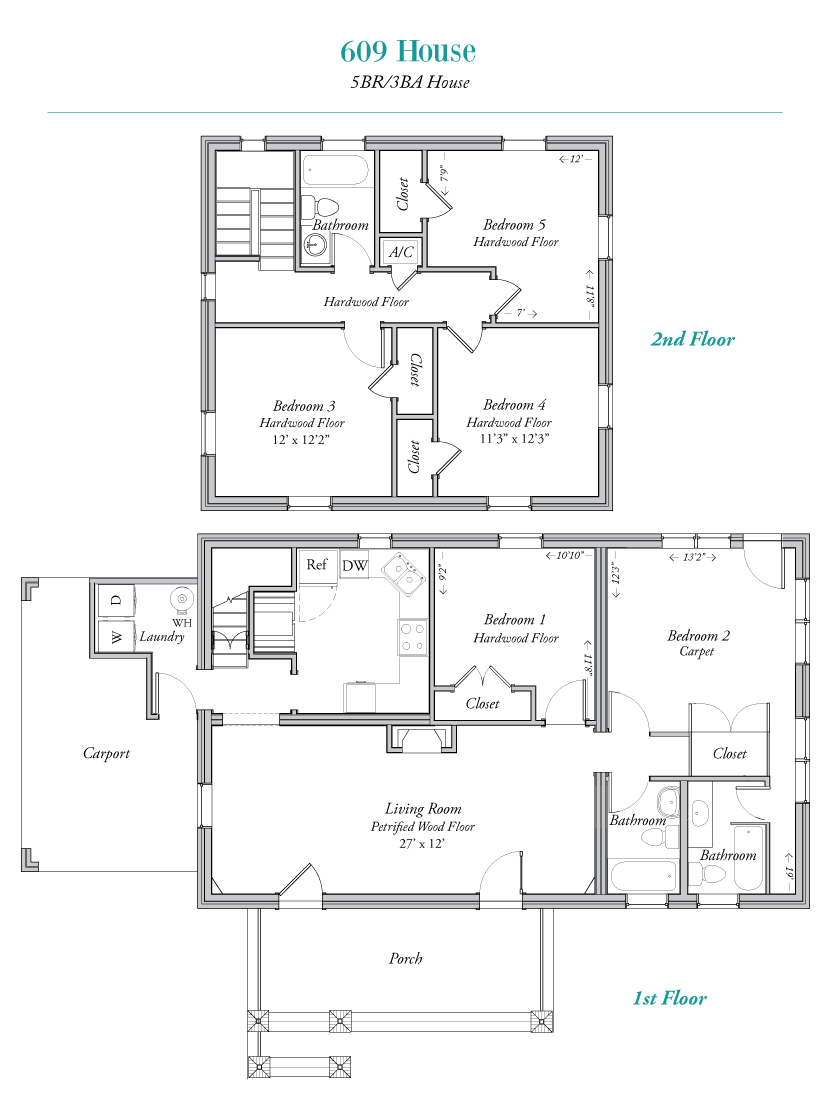 Amenities
Unbeatable 5 bedroom / 3 bathroom house
Currently under renovation for Fall 2016!
Gourmet kitchen with granite countertops and custom wood cabinetry
Polished hardwood floors upstairs; plush carpet downstairs
Oversized living room
Built-in fireplace
Bulit-in bookcases
Attractive wooden staircase
FREE parking!
Tour NOW for Fall move-in
Features
Beautiful Brick Exterior
Just a two minute walk to Norman Hall, Sorority Row, and other UF classes
Rent Includes
2 Carport parking spots ($200/mo value)
Washer and Dryer in unit
Yard Maintenance ($80/mo value)
24hr emergency maintenance
Night manager service
Close to UF Classes
Steps From UF at Criser and Tigert Halls
This content requires HTML5/CSS3, WebGL, or Adobe Flash Player Version 9 or higher.
Reviews
2 Reviews with an Average Rating of 5 stars
110 House was a perfect location in relation to campus and the stadium. The house was the perfect size for two people and had a nice backyard.

Scott
Very reasonable! Maintenance was very fast and always fixed what we needed! Loved living in a 6 bedroom house.

Tenant
Description
Enjoy living in this historic 5 bedroom house that located within walking distance to Sorority Row, Norman Hall, and other UF classes! This brick home has unique characteristics, such as hardwood floors, luxury tile surround in the bathrooms, a fireplace for those chillier nights, and even has a carport for parking. One bedroom is downstairs and three are upstairs. Call 352-376-6223 for details.
Disclaimer
Measurements are approximations only. Not responsible for errors or omissions. Sorry, no pets.
Special
Rent per Bedroom
$745 /Bedroom/Month
Regularly $3975; On Special for $3725/Month
---
Fully Leased for
Fall 2016
---
Sign now and save $250 per month on rent (normally $3975; $3725 with special).
Get on Waitlist
Request Info