This 115 House is fully leased for Fall 2016.
Get Waitlist Updates
Check out these similar available floorplans.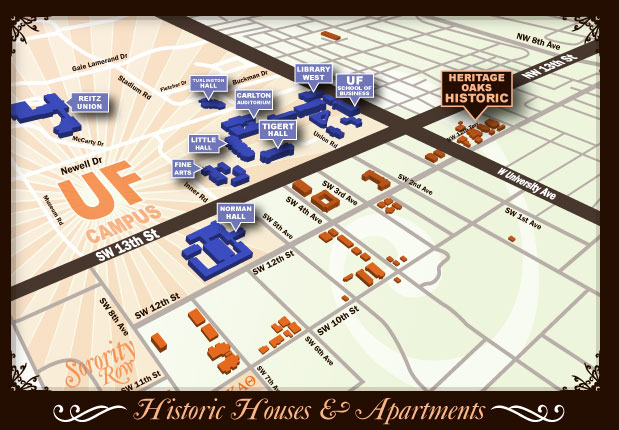 Houses Near UF For Rent
115 House
Fully Leased for Fall 2016
115 NW 12th Terrace
Gainesville, FL 32601
(352) 376-6223
Just steps away from the heart of UF campus, residents of the #115 House at Heritage Oaks will find themselves living in a mini-neighborhood like you'd find in New Orleans or Savanah: the landscaping, the design, and the architecture is unlike anything else available in Gainesville. And it's just steps from Library West! This fully renovated 5BR historic house features an attractive brick exterior, an oversized private porch, and backs up to a community courtyard with trickling water fountain and gathering benches. Inside, you'll find a HUUUGE living room with polished hardwood floors and decorative fireplace. The kitchen has been fully renovated with custom wood cabinetry and granite countertops. The upstairs bathrooms have also been renovated with custom, tile-surround showers and cabinets with granite countertops. You're going to LOVE this house! Just steps from UF classes, Library West, and the heart of UF student life in midtown!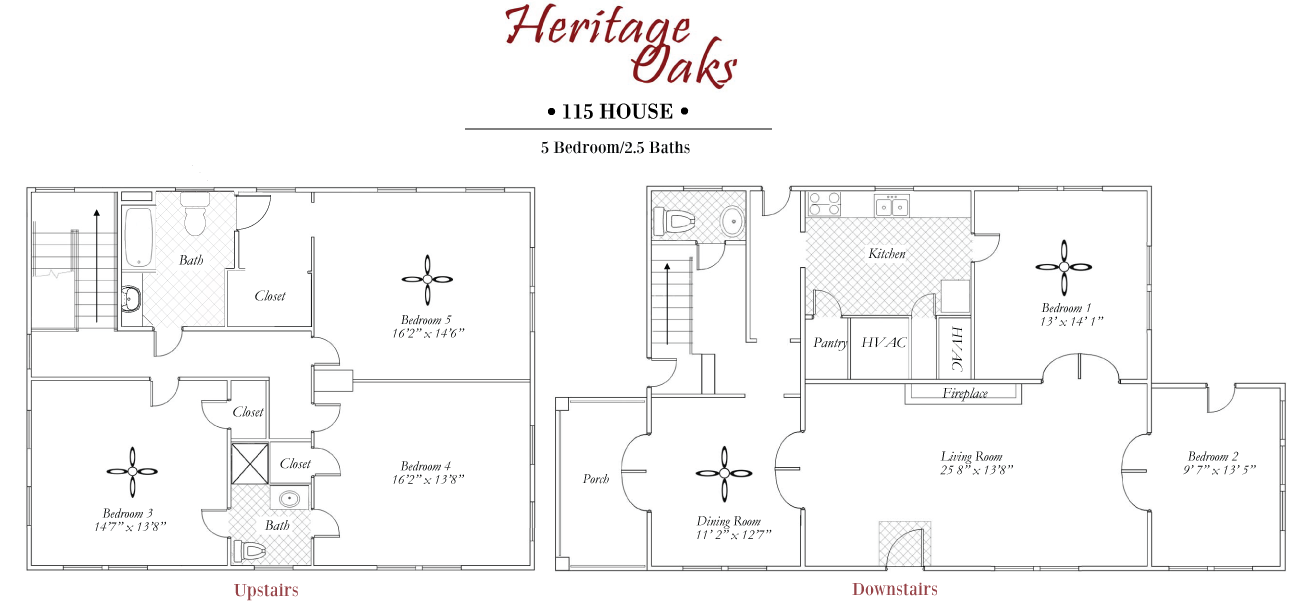 Amenities
Fully renovated 5 bedroom house
Separate dining room
Double-sized living room
Large windows for abundant sunlight
2" plantation blinds throughout
Dishwasher
Granite Countertops
Luxury Bathrooms
Built-in fireplace
Polished Hardwood Flooring throughout BOTH floors
Tour NOW for Fall move-in
Features
Steps from UF classes, Library West & Midtown
Private porch with swing
Trimark maintenance team handles all yard work and any repairs
New Appliances
Washer and Dryer in unit
New Ceiling Fans, Paint, Countertops, Cabinets, Tiling & More
Rent Includes
Gigabit Hi-Speed Ethernet ($125/mo value)
Washer/Dryer ($50/mo value)
Yard Maintenance ($80/mo value)
24hr emergency maintenance
Night manager service
FREE Hi-Speed Ethernet - 1000 MB/S
65X faster than Cox Cable's Essential Internet speeds!
Close to UF Classes
Steps From UF at Criser and Tigert Halls
This content requires HTML5/CSS3, WebGL, or Adobe Flash Player Version 9 or higher.
Reviews
2 Reviews with an Average Rating of 5 stars
110 House was a perfect location in relation to campus and the stadium. The house was the perfect size for two people and had a nice backyard.

Scott
Very reasonable! Maintenance was very fast and always fixed what we needed! Loved living in a 6 bedroom house.

Tenant
Description
Live in this newly-renovated 5 bedroom house! Conveniently located on next to UF Campus and midtown. The house has 5 large bedrooms, an oversized living room, and a large private porch. This 5BR house has pre-installed ceiling fans, a beautiful wood staircase leading upstairs, and true luxury amenities. There's even an Ethernet port in EVERY bedroom! The double sized living room is perfect for entertaining with a large fireplace and french doors. Absolutely beautiful! Hi-Speed Ethernet included in rent. Call 352-376-6223 for details.
Disclaimer
Measurements are approximations only. Not responsible for errors or omissions. Sorry, no pets.
Special
Rent per Bedroom
$730 /Bedroom/Month
Regularly $3900; On Special for $3650/Month
---
Fully Leased for
Fall 2016
---
Sign now and save $250 per month on rent (normally $3900; $3650 with special). Plus get FREE Hi-Speed Ethernet all year!
Get on Waitlist
Request Info