Trimark Properties announced today that their 4 bedroom apartments in Gainesville, FL are almost sold out for Fall 2017 move-in. There are currently only four apartments left for pre-lease, and the March rent specials end in just four days.
Trimark Properties' four bedroom apartments are amongst the most sought after in Gainesville, due in large part to their unbeatable location, walking distance to UF classes.
"Our 4 bedroom apartments typically fill very early in the rental season. Students choose them because they can walk from the apartments to UF classes, libraries, Sorority Row, and dining halls. Each 4 bedroom floorplan is unique, but they all have oversized living rooms, which makes them a great fit for entertaining, too," said Matthew Luedecke, Property Manager at Trimark Properties.
Most of Trimark's 4 bedroom apartments offer layouts where each bedroom is a master suite with a private luxury bathroom. Select floorplans, like the 4 bedroom townhouse at Archstone, offer lower rates when students share a bathroom.
Some of Trimark's apartment complexes in Gainesville offer a balance between budget and privacy, with two of the four renters enjoying private bathrooms (while paying a bit more in rent), while the other two roommates share a bathroom and enjoy a more budget-friendly rental rate.
Trimark's 4 bedroom apartments start at just $699/month/person with current pre-lease specials.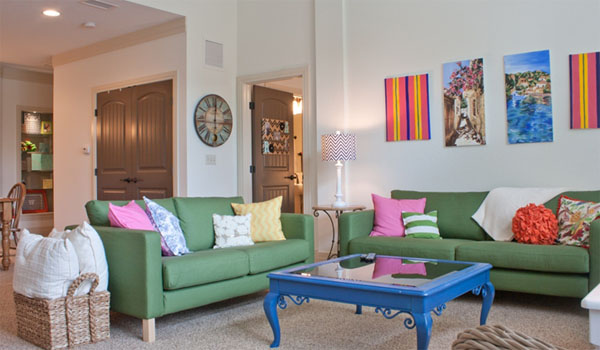 Visitors Also Liked: