Trimark Properties has launched a new web portal for students looking for an apartments near UF Sorority Row in Gainesville, Florida. This new web portal offers a list of the closest townhouses, houses and apartments to sorority row, and includes photos, a free apartment finder, virtual tours, apartment comparisons and more.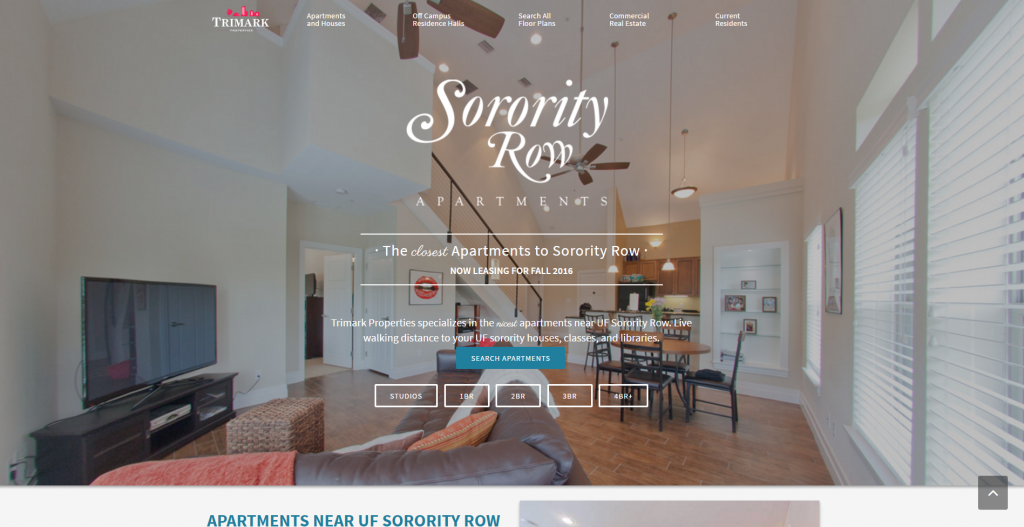 The web portal will offer a convenient way for UF students to get information about new apartment complexes currently under construction, as well as getting up to date information about pricing and availability.
Trimark Properties currently owns and manages 25 apartment complexes, most of which are in the area just north of Sorority Row and east of UF campus. Estates at Sorority Row is their closest apartment complex to the area, which is located on the corner of SW 12th Street and SW 8th Avenue (which becomes Museum Road as you enter campus). Apartments range from studios to 3 bedrooms in size; Estates at UF also offers 3BR/3BA Townhouses with many luxury upgrades.
Another popular apartment choice for sorority members is Sabal Palms, which is located across the street from Theta on SW 10th Street. Sabal Palms offers 3BR bedrooms and 4 bedrooms. Many of the renters who choose to live there are Theta sorority members.
Many of the University of Florida sorority members want to live walking distance to the sorority house because their is very limited parking at the houses themselves. This way, they can walk to chapter meetings and take advantage of the free meals which are typically included in their dues.
Visitors Also Liked: